Japan er verdens tredjestørste økonomi og Danmarks 13. største eksportmarked for varer i 2017. Nedenfor ses et kort overblik over de seneste nøgletal for Japans økonomi og samhandel med Danmark.
Danish trade with Japan
Export
Japan was Denmark's 15th largest export market in 2020, totalling DKK 21,1 billion in revenues which accounted for 1,6% of danish exports. (BOP)
Japan was Denmark's 14th largest export market for goods with 13,8 billion DKK (1,8%) and the 16th biggest market for services grossing 7,3 billion DKK (1,5%). (BOP)
Goods exports to Japan rose by 3,7 % in 2021 in relation to 2020. (FOS)
The top export in 2021 was medicinal and pharmaceutical products (DKK 6,01 billion). (FOS)
Import
Imports of goods and services from Japan totalled DKK 7,0 billion in 2020. (BOP)
Imports of goods from Japan totalled DKK 3,0 billion in 2021; a rise of 9,7% relative to 2020.(FOS)
The top import good in 2021 was road vehicles (including air-cushion vehicles) (DKK 284,5 million).
Foreign direct investments
Denmark's direct investments in Japan were DKK 9,0 billion by the end of 2020.
Japan's direct investments in Denmark were DKK 29,4 billion by the end of 2020.
In 2019 93 danish subsidiaries employed 5.566 people in Japan.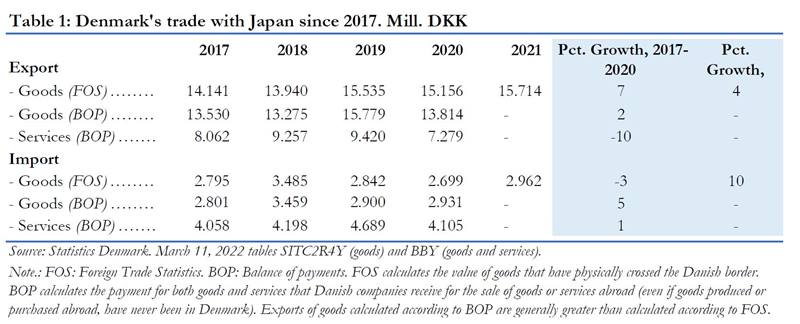 Economic key figures for Japan
Japan is the world's 3rd largest economy in 2020 with a GDP of 5.040 billion USD.
In 2020 the country had a population of 126,5 million.
According to the World Bank's 2021 classification, Japan belongs to the group of High income countries. The GDP per capita of the country was 39.856 USD in 2020.
In 2021 the real growth rate in GDP is expected to be 1,6 pct., and over the following two years real GDP is expected to grow at a rate of 2,6 pct. p.a.
In 2020 the current account had a surplus of 2,9 pct. of GDP. Towards 2023, the current account is expected to somewhat worsen and the surplus increases further.
In 2019 the government budget balance had a deficit of 9,1 pct. Towards 2023, the budget balance is expected to slightly improve, but remains negative.
Exports of services to Japan totalled DKK 7,3 billion in 2020.